Features and Benefits
Salient Features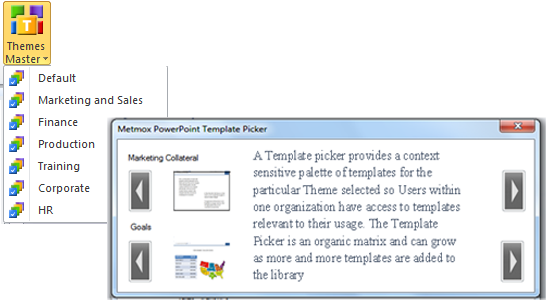 Access to brand standard templates stored in the central Electronic Content Management system from a context sensitive template library via the template picker palette
Enforcement of styling parameters across the organization

collabreate

on content creation
Report Templates with automatically updated reports
Federation of created content within the user group
The styling specifications particular to each Theme can be dynamically changed by using the Configurator utility by the administrator.
The Themes and Templates are added, also using the Configurator but they are located in the central Enterprise Content Management System ( ECM) from where they are federated to Users
Since any changes made to the styling parameters are stored in the ECM System, Users do not have to worry about remaining current with the versions. They do not have to remember about the styling requirements either.

Users can Link often used reports in Excel to their presentations. A Report template can be added to the template library via the Configurator. This template is linked by assignment to a particular Excel file. The portion of the data that has to be imported from the Excel file link is configurable. As the Excel data is updated, the data in the PowerPoint updates automatically. This can be an extremely powerful utility for periodic report presentations.
Custom Macros for Standardization

The tool incorporates several custom Macros for enforcing brand standardization . These Macros invoke text boxes that are preformatted. These text boxes have specific functionality and are placed at pre-fixed locations on the slide. For example, when a 'Footnote' icon is clicked, a textbox preformatted with Footnote styling is placed at a specific location on the slide. This is configurable as to the position, size and the character of the text box. The Text Box and Subtitle icons go a step further. They provide a sub menu with four options. Based on these options, one, two or four text boxes or subtitles are placed on the screen. Again all of these have consistent styling
IM Integration for Collaboration

collabreate provides integration to the corporate IM, (as a standard, it comes integrated with SkypeTM, but can be customized to work with other standard IMs)
Custom Macros for ease of use

Several Custom Macros are incorporated in the tool that will provide Users the ability to perform routine formatting quickly and accurately. These macros will help Users to concentrate on the content creation without having to worry about the formatting errors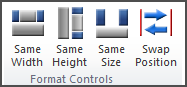 The Object resizing and Object Swap macros shown alongside will provide one-click functionality to the often cumbersome process of re-sizing two objects, be it text boxes, images, charts or any combination of the above to either be rendered of the same size or swapped relative to their positions.
Admin Functions

Changes to brand standard styling specifications , adding /deleting themes, templates etc can all be done by Admin users via the Configurator. The system can also be restored to factory settings by one click, if the changes have to be reversed. Users can upload the created content via the up-loader, which federates the content back to the central repository.
Benefits